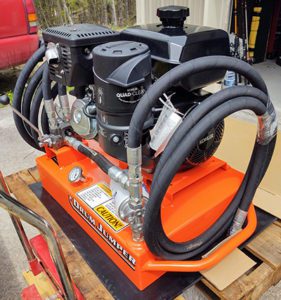 When we developed the Drum Jumper 21 years ago, we powered it with a 13 HP. 390 cc engine. it was an excellent engine but needed more power. Since then, we have increased the horsepower to 14 HP. We use a Commercial Series Kohler CH 440 with 429 cc displacement. The Kohler engine has a cast iron sleeve and a 9 toothed splined crankshaft designed for an, A mount, hydraulic pump. The hydraulic pump bolts directly to the engine eliminating the bellhousing adaptor and coupling. Less weight and more power.
The improved power and design of the Drum Jumper shows when making the initial drum revolution of a mixer full of hydrating Concrete. The Drum Jumper turns the mixer drum a maximum of 2.5 to 3 RPM's.
The control valve has variable pressure in both the mix and discharge positions. This allows the operator to set the valve and go do other tasks. The valve also allows the truck to be towed by moving the lever to an agitate mixing position.
The hydraulic pump is a single stage 3000 PSI pump. The single stage allows the Drum Jumper to maintain rotation and Drum RPM without changing GPM and possibly stalling the engine. This is important for low slump Concrete. The Drum Jumper is designed to rotate a ready mixed concrete drum. If your hydraulic pressure is less than 3000 PSI your mixer should rotate. Concrete slump and how many cubic yards doesn't matter. Most of our testing was done with 11 cubic yard loads at a 1″ slump or greater.
The Drum Jumper comes with 3 hydraulic mixer jumper hoses. A high-pressure mix hose, high-pressure discharge hose and low pressure return drain hose. It has a hydraulic temperature gauge, hydraulic pressure gauge, internal tank filter and an external screw on hydraulic filter on the return line.
We have re-designed the hydraulic tank and thickened the steel. The safety orange paint color is now powder coated. With these changes we have maintained the Drum Jumpers portability.
Drum Jumpers are built, tested and shipped from Michigan. They are in stock and come with a one-year warranty.
Questions / Orders, please email or call Dick Willbee. Your business is appreciated.
DRUM JUMPERS** AN ADVANTAGEOUS INVESTMENT AND A DEFINITE INSURANCE STRATEGY**